DECAL - Fufukitten Musical Kitty Cat - Vinyl Adhesive (Weatherproof/Indoor / Outdoor)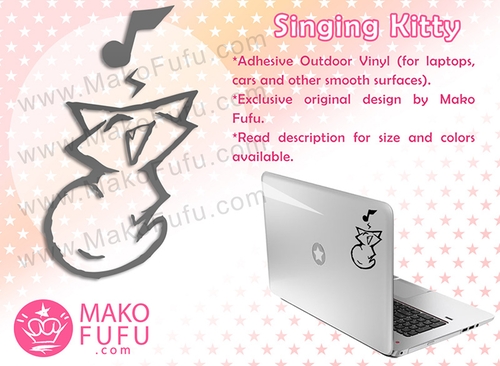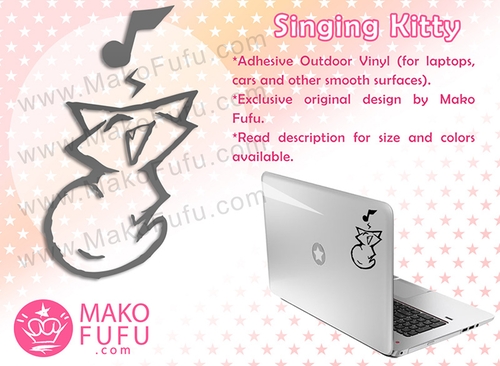 DECAL - Fufukitten Musical Kitty Cat - Vinyl Adhesive (Weatherproof/Indoor / Outdoor)
Fufukittens - Musical Kitty (decal, vinyl sticker)
Available Colors: Black / White
~6" x 3" (~15 x7,5 cm)
Ready to apply, with clear transfer plastic. Includes application instructions.
Perfect for laptops, notebooks, helmets, cars, windows or any smooth surfaces.
Weatherproof. Water and UV resistant. May be used in surfaces such as car windows. When applied to water bottles and such, choose handwashing over dishwasher to increase durability.
Musical FufuKitten is a Superstar! He's thoughtful and knows that you are a busy human. He'll audition for you at 4 AM so you can make the most of your day. Thank you, little guy!
Check the Stickers section for other Fufukitten decal Designs!
*Product for personal (non-commercial) use only.
*Picture is for reference only and may NOT accurately represent the actual size.
*The vinyl decals are removable, but not re-usable after they have been removed from the surface.
*Please be aware that decals covers only the colored area.
*They can be used on almost any flat, smooth, non-porous surface - car, laptop, mirror, window, furniture, metal.
*Estimated outdoor durability- Up to 3 years, Estimated indoor durability- Up to 5 years